UPDATE
Still have the intake kit for sale if anyone is interested. $80 ono, pick up only because AusPost won't ship anything that big.

Have added wheels and tyres
Camshaft, gear and shims have been sold
Also up for sale is my intake set up as a whole. 75mm stainless steel intake with airbox lid, BA snorkel (similar to Tickford snorkel) and a K&N air filter. You will need to buy a silicone hose/tube to fit between TB and SS intake, mine is all but stuffed so couldn't be salvaged. It will come with hose clamps to suit the TB/SS diameters.
Have 5 x 17" AMG Quakes with Good Year Assurance Triplemax tyres, 2 have around 75% tread, other 2 have 85% tread and the single wheel has around 10-15% tread, used as a spare. Used to be fitted to my EL, but as I don't have it anymore, it is just collecting dust. All tyres were fitted and balanced at my local Beaurepairs. Pick up preferably, but can deliver for a small fee if you are in the area, located northern suburbs of Victoria. PM me if you need more details.
$600 ono
Attachments: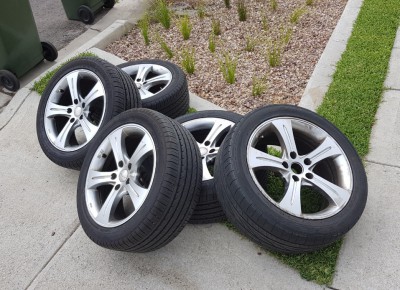 Wheels.jpg [ 355.71 KiB | Viewed 206 times ]
_________________
phongus = Post whore 2006
EL XR6 motor, EL ECU + J3 chip, WADE 1673 Camshaft, 3" S/S intake, Pacy 4480, 2.5" Hi flow cat, 2.5" Lukey exhaust.
Max Power = 144.6 rwkw (03/05/2008)
Last edited by phongus on Mon Apr 02, 2018 2:45 pm, edited 6 times in total.