After putting on three coats of primer, I then added a couple of coats of black and finished it off the textured black stone guard, hopefully this will minimize chips so I don't have to repaint it as often as the last car. I haven't decided how i'm going to do the liner yet but it will be some sort of rubber rather than the factory plastic.
I also cleaned up the new AU Stub Axles, EF Drum plates & Watts link bars so that I could paint them.
The AU stub axles in particular came off a wreck and were pretty bad, I forgot to take before photos, but i'm really happy how they came up.
By replacing thew ED Brake plate with the EF one, I don't have to use the ED calipers with the integrated hands break and can use later calipers which are designed to have the separate drum handbrake and just delete the entire cable handbrake completely. This will make changing pads significantly easier as I don't need to screw the piston back in like in the ED ones.
The later model calipers are also a lot more reliable and easier to rebuild so its a win win.
Running the AU Stub's obviously allows me to run AU Hubs, Floating Disks and the AUII Twin pots which will give me a lot better pedal feel and also are a lot easier to change and also easier to get parts for. I particularly like the floating disks and hub setup which will be a lot easier to change at an event in the case of a failure than the ED ones with integrated bearings.
In a perfect world Id go and get a set of BA brakes but we have a 15" control tire so anything bigger than the 185mm disks off the AUII wont fit under the rims.
Finished Wheel Arch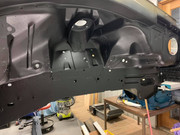 Drum plates, Stub Axles & Watts link Bars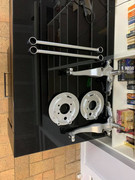 ED Brake Plate - Rubbish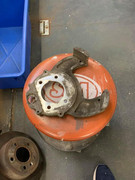 ED Rear Caliper with integrated Handbrake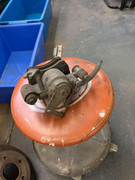 ED Rear Caliper from a different angle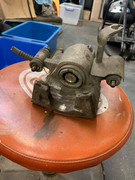 EF Rear Caliper off a wreck for test fitting.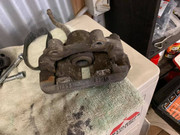 **Edit Fixed Photo Links**
Last edited by XerxasJade on Thu Aug 13, 2020 12:25 pm, edited 1 time in total.