MrLandau wrote:
kenny wrote:
I only installed a resistor loop to my IATS (intake air temp sensor)today & I found an easy 15hp for only $15,this tells the ECU the incomming air is 0 degrees c ,therefore more dense and more air in the cylinders so the ECU compensates this by enrichening the mixture. To take total advantage of this mod install H.E.G.O mods to tell the ECU that too much oxygen is passing thru the exhaust (lean mixture) so it also fools the standard ECU into enrichening the mix
This is all you get when installing a chip but you must be careful not to over fuel the engine (keep monitoring you're plugs if not done on a dyno)

Interesting Kenny - Most 5.0 Windsors I have seen on the dyno in standard form have been a little rich to start with - adding more fuel and going away from the stoichometric air/fuel ratio will lose power - not gain it. More power is produced from leaning out your air/fuel ratio but this adds heat and promotes predetonation so normally you find a safe level that compromises power and longivity.
Shane
According to my HEGO'S the voltage was down to 0.2 volts before the mod, but now they're running at 0.4 volts so I will not "play" with the sensors now ,but since installing the resistor loop I find the car will easily wheelspin into 3rd gear in the wet (which we experienced today!)where before it would barely spin from 1st to 2nd. You should have seen my plugs before they were running so lean they were white (not the wrong heat range of plug either) according to the self test there are no faulty sensors either, so I'll stick with this mod as I am without doubt that I made power gains.
I found that in clevo's once you go richer than 13:1 thats when power starts dropping
P.S the resistor also advances the timing quicker to max advance ,maybe that is what I feel?
_________________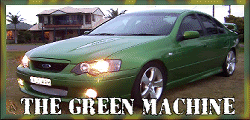 IF YOU HAVE IT UNDER CONTROL
YOU SIMPLY DON'T HAVE ENOUGH POWER!!!
Detroit 8V71 for sale, taking offers