Thought I might share my s**t.
updated pics of current guise page 6.
Quick Summary if you CBF reading the rest of it:
Engine mods + Driveline
AU XR6 engine (was EF motor with 1673)
Shaved 20thou
ports and combustion chambers cleaned up
Pacemaker 4480s
2.5" Lukey catback, 1 box
3" Intake
KnN pod
5 speed, factory
Steeda ripshifter, short stick
Exedy 5 puck clutch
3.45 LSD from an EF XR
Kings Springs Superlows
Pedders Shocks
RDA slotted rotors, Bendix Ultimate pads
Interior
Mont cluster
Black dash, surrounds, steering wheel, EL GT gearboot, BA XR gearknob, chrome handles, custom trims
Clarion CD/MP3
Alpine MRD mono, 4ch
Infinity Reference Series front splits
Exterior
BF Optional 18s
BOSS Bonnet bulge
Tint
Resprayed in Envy Green
Full Story
Bought this car just over 3 years ago now for $3k, had 195,000kms, factory manual, 15" ROHs, Pioneer CD player PLUS fkd roof paint lol.
Was advertised with 17s as well, but eh I was going to buy it either way, 3 grand was cheap!
Pic from the ad
Got the roof sprayed
Bought a 2.5" Lukey catback, single muffler for $120 (2nd hand) plus fitting and a free tip (poxy 3" round one)
Sounded 11ty times better than stock with a hole lol.
Next mod was King Spring Superlows, turns out I had Tickford springs/shocks all round and some other Ticky s**t under the front end.
Brought it down to a reasonable height, I was pretty happy with it. Didnt drop the front as much as I would have liked though, so now I'm after some short shocks with a lower seat base.
Lowered on the 15" ROHs that came with the car.
Then I bought a set of extractors from Dumper Kings n Exhaust from ebay for $180 brand new. Basically a copy of Pacemaker 4480s.
Got them installed and changed the tip to a nice shiny oval tip, looked much better, and after I installed a custom hi-flo cat the difference was actually quiet noticeable.
With this combo theres a touch of drone at about 2500rpm I think, though its barely noticeable. If you have the stereo on at a barely audible level its louder than the drone, so I'm pretty pleased with it.
Seeing as performance mods were now banned for P platers I focused on the audio side. Slightly regret it now, but eh it does sound good and I use it all the time.
I originally bought a Pioneer deck and some 6.5 coaxials, and left the rears stock. Added an Alpine 4ch special edition amp @ about 50rms to the fronts, which were now some Infinity Reference series splits. Crossover boxes live in the door map pocket thingos. The Pioneer coaxials were put in the rear.
I then bought another Alpine amp, this time a MRD mono block @ 1000rms, which matched nicely to the Clarion 15" sub I picked up just prior. Slapped up a custom box of about 3.5 cu ft and carpeted half of it, as I was gonna port the box, which never happened.
Stereo sounded fkn mint with a truckload of bass, until one of my doortrims decide to start vibrating like a battery powered d*ldo.
Next stage in the audio build is to do a proper boot install of the amps around the box, and to get another freakin door trim that isnt fkd.
Sometime after that I decided it needed more poke, so installed a Wade 1673, and then more recently a 3.45 LSD, as well as the most recent mod of a TI J3 chip with an XR/custom tune. Its also got a 3" intake and KnN pod.
Its got enough to skate 2nd gear for over 100m now with no brake, so pretty happy with it for an NA car. Will spin stockos without clutch dumpage in first as well
Fuel economys bloody good as well, sits on about 6-7-8l/100km on the highway depending on your speed, and my average is 10.2 atm, not driven lightly either.
Its good being able to slot it into 5th at 55 and sit on about 1200rpm, but not soo good sitting on 2500 at 120 odd.
I'd guestimate about 140rwkws, one day it will see a dyno lol. Would be great if someone on the Gold Coast or Brisbane even tuned the J3s.
Also I've got an Exedy 5 puck clutch waiting to go in, the heavy duty one slips occasionally (already burnt one out, busted box/bellhousing/fork/etc etc lol)
Also got some BA XR rims in next to mint condition with 2 new tyres, 2 half, and 2 spares for cheap. Car goes, stops and steers sooo much better with the fat tires than the stock 205 15s lol.
Also picked up some next to new Pedders shocks for free, threw them in. Yehhh, mine were fairly sad, then about a month later some RDA slotted rotors all round with Bendix ultimate pads. Pulls up pretty well I spose... would love a 330mm kit though.
Has a new alloy radiator too.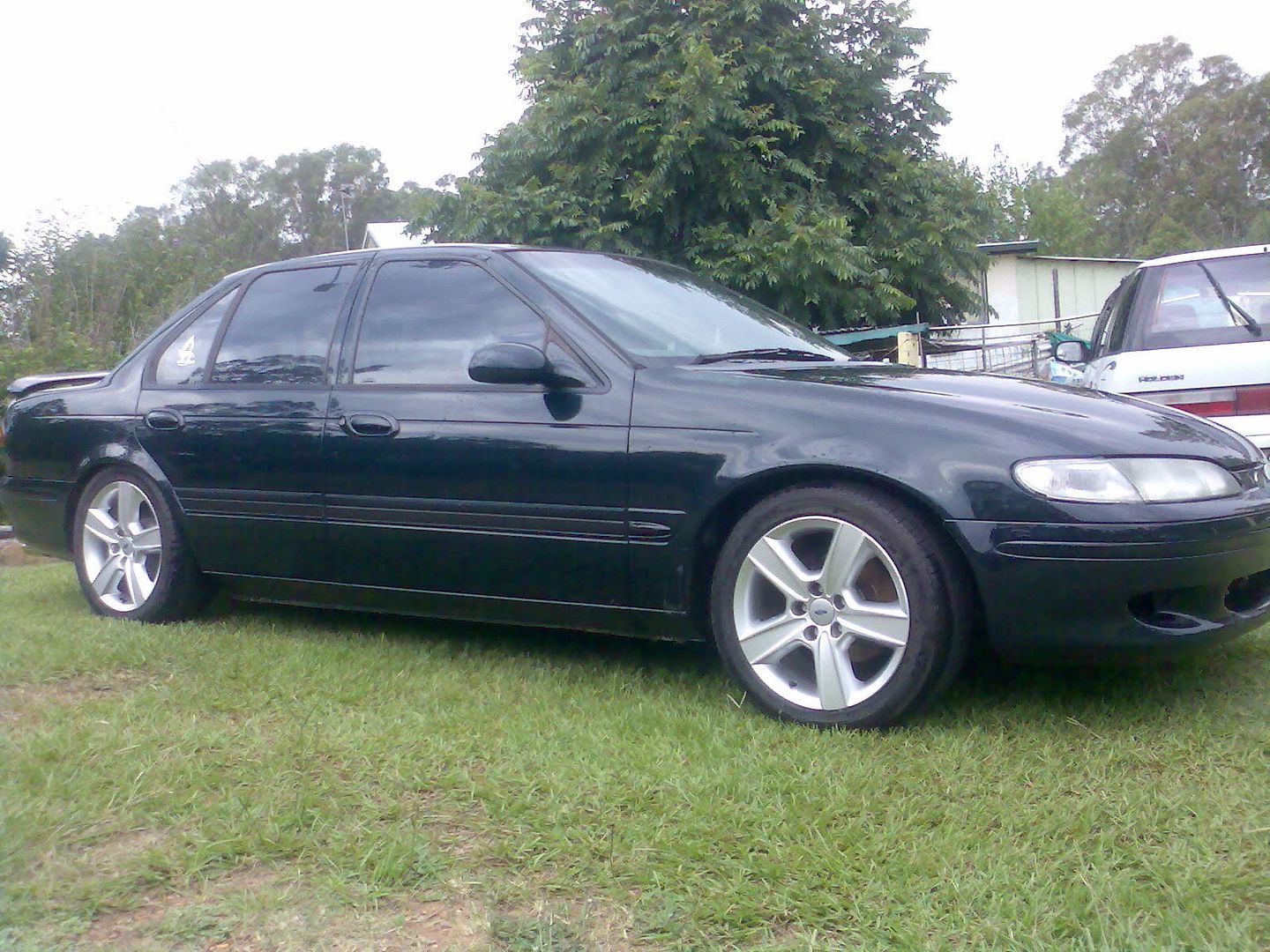 Added a trip comp, police cluster (to correct diff) and blue LED'd it all.
Engine bays not that flash, will be receiving a tidy up when I get it back. Heres one if the heatshields I knocked up, looks tops
Fast forward to right now, and its in getting a BOSS bulge put on, then a repsray in Envy Green.
Getting debadged, despoilered, boot lock + antenna removed and passenger side keyhole bogged over (cant find a factory one missing it)
Stupid stock paint decided to peel on the bonnet and spoiler :glare:
Interior is receiving a minor make over with some black VHT, EL GT style. Black leather gearboot, BA XR knob, black leather centre console cover, black ebay steering wheel (one of those RATglobal ones), as well as some door retrimming. Nothing in your face, just some subtle differences hopefully. Plus black pwns the stock grey/blue interior combo. Also hoping to pickup some BA XR or better seats sometime in the future.
Will be getting the windows retinted as well, probably 20% all round.
So yeh thats basically how it sits at the moment.
Last edited by krisisdog on Tue Jun 21, 2011 9:17 pm, edited 20 times in total.