I have in the past few months been thinking of building up my NC Fairlane, with a few generic modifications here and there I decided to go all the way.
It started Late last year with the purchase of my current NC II Lane, after I wrote off my last Lane.
Since I have thrown on my 2.5" catback exhaust, re-lit my dash, full sound system with a custom box (I made myself), shift kit (also done by myself thanks to ford mods), thrown my 16" ROH SP rims on it.
Still to come that are currently sitting in my room are, Pacemaker extractors, Pedders sports rider shocks and springs.
Future modifications,
Engine/Driveline
Camtech Camshaft, 2250rpm stall converter, Improve the intake possibly porting the head and upgrading from a log intake to the bbm and ofcourse a pod filter, In the future when I get my open license supercharge/Turbo or V8 I havn't quite decided. In that case a strengthened tailshaft with billet uni joints is also possible, I still havn't settled on what diff ratios I want so some more researching is in the needed. Back to the bottom end, all depending on whether I upgrade to a V8 or not I may invest in an engineered crankshaft with forged pistons and stronger con rods to balanced the engine with a dyno tune and flash my chiptorque chip that I have recently purchased also. All of this is all to improve my torque and in result my power dramatically.
Interior
Full re-trim in off-white or buttermilk with burgundy inserts and highlights to match the future paintjob, customise the dash, bucket seats in the front (not sparco, more along the lines of the FG GT-P style).
Exterior
House of colours Shimrin Burgundy, Dark tint, LTD GRILLE, touch up the plastic that often fades with the NC fairlanes, touch up the chrome also.
Wheels/Brakes/Suspension
Possibly 18"-20" (haven't settled yet) Diablo Elite Rims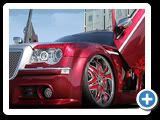 if i can some how fit them or similar styled rims. Upgrade brakes, throw in my pedders suspension.
Miscellaneous
Upgrade all fuel lines, new radiator overflow bottle and lines and a few little things when I come accross them.
I am not expecting to finish this in the next 2 months as some may presume I think because I am young, but I am willing to put the time and effort into this build as I am not interested in commodores, ricers, lancers or excels as my fellow generation y's commonly "supe up" as I am a second year mechanical engineering student and I have been brought up in an engine bay thanks to my father and mother (mainly father) so please, do not judge me if I make a few mistakes as I am also learning however I do want to do it properly so as I said, I know it won't take me 2 months but so far I have been pouring money into it so I can get it finished within the next couple of years.
Cheers,
followers welcome.