Someone recently suggested that I should do a thread about my car.
At first I didn't think it was worthwhile, or worthy for that matter, but after a bit of thought I decided there are a few things that I've done to my car that I'd like to share. It may inspire someone, it may help someone, it may do nothing for anyone, but in any case here goes....
I bought the car in Oct 2008 with 61,788km on the clock.
I wasn't even looking for a car at the time. I just happened to click a link, one thing led to another and it was mine within a couple of weeks.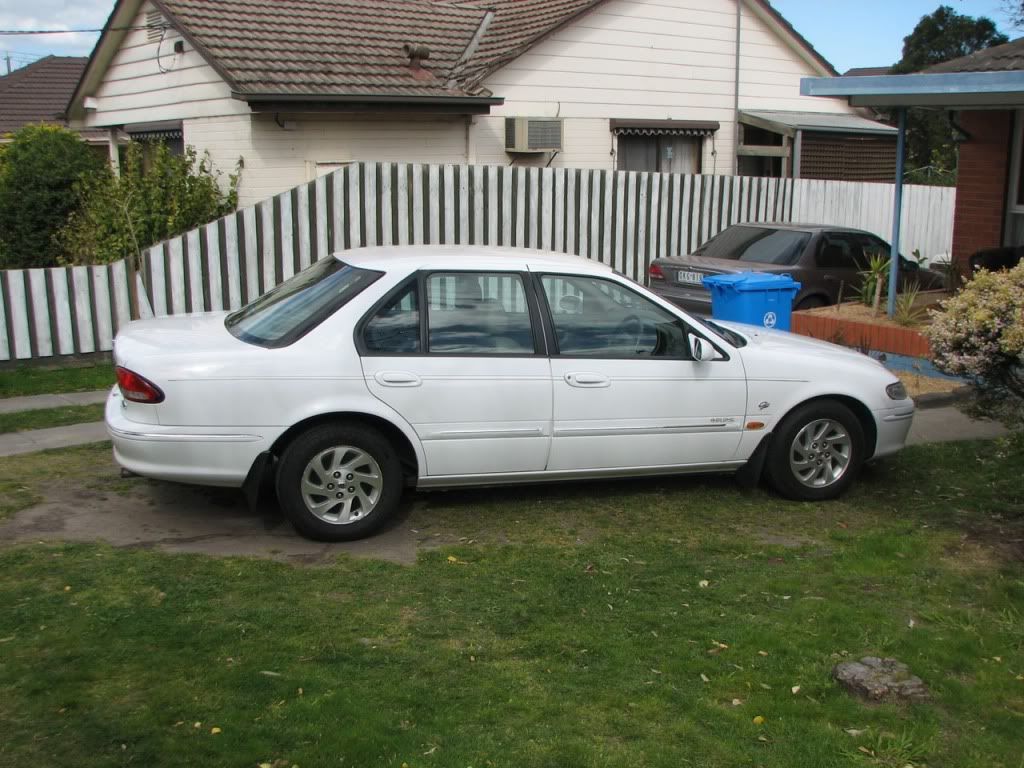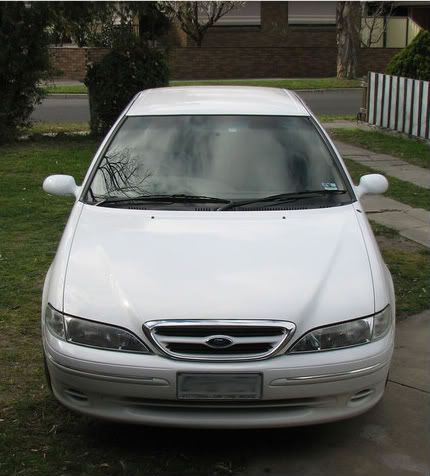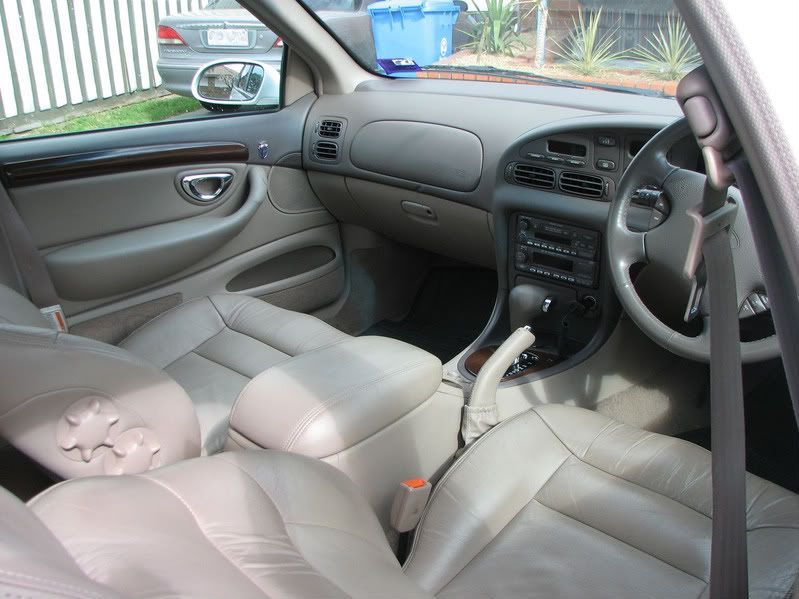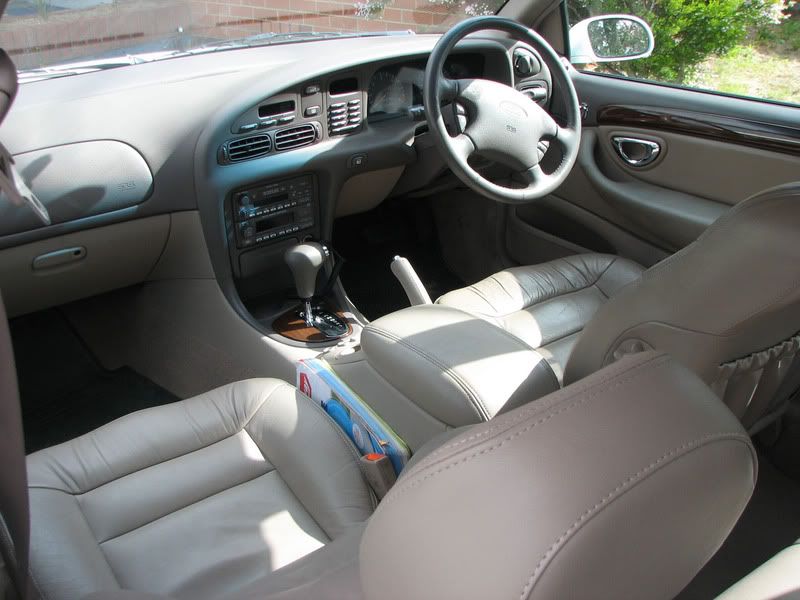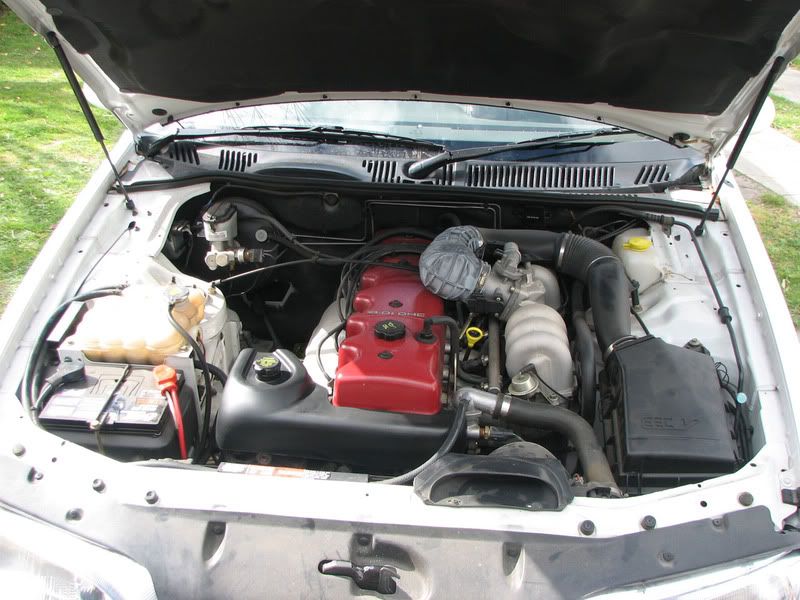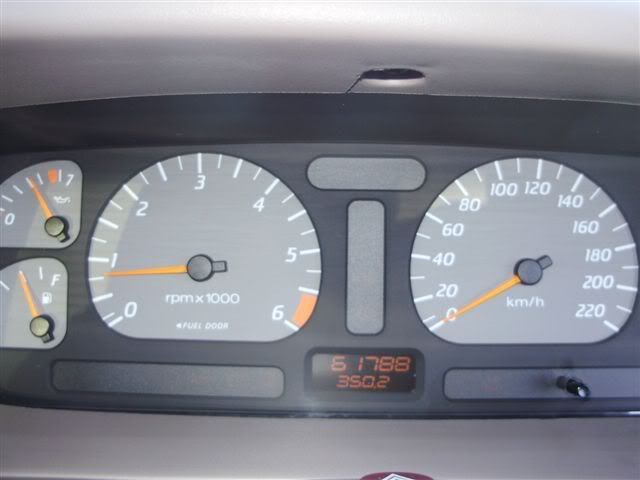 The first port of call was to change the suspension and convert to manual.
I purchased myself a set of Koni shocks from GT Suspension in Melbourne before they went belly up.
I mated these with a set of King Springs superlow springs front and rear.
Christmas break 2008 rolled around and I took full advantage of the available time.
Halfway through...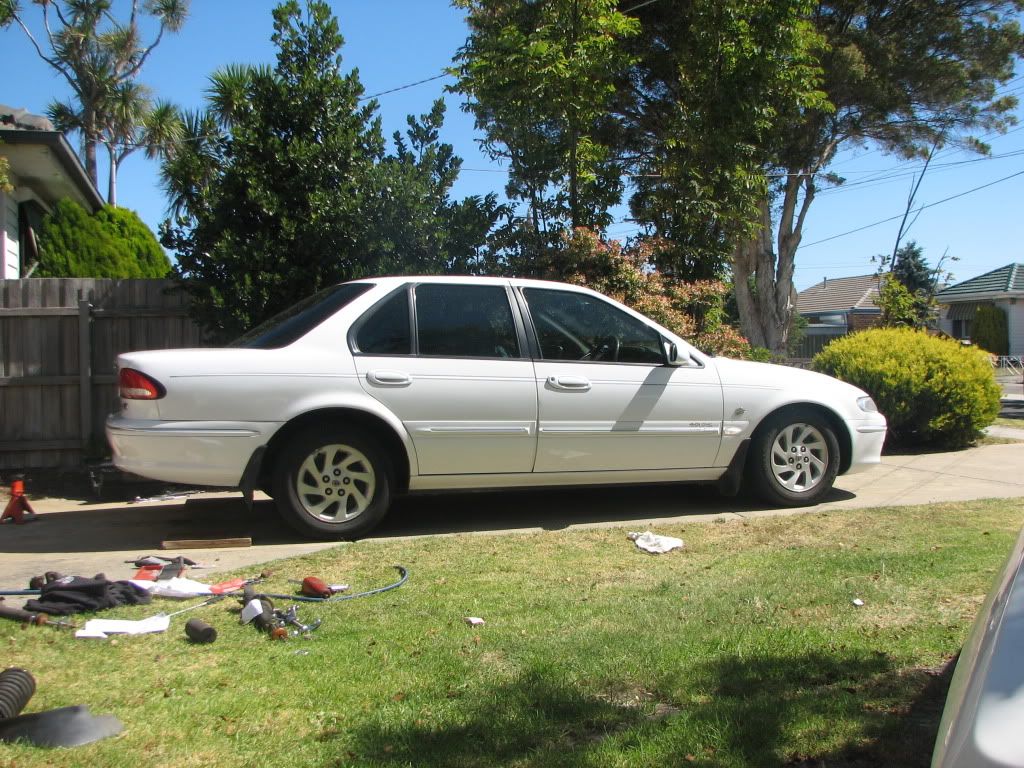 Done...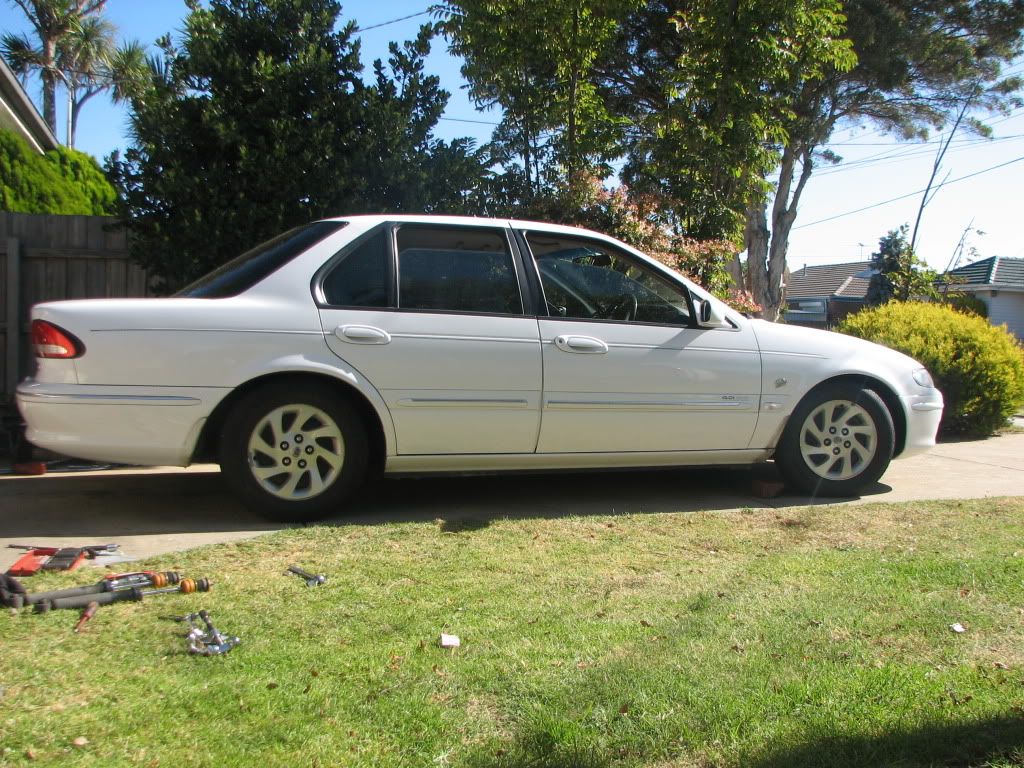 Now to give it a wash a fit it with better wheels, that came with me from my XF.
Original home...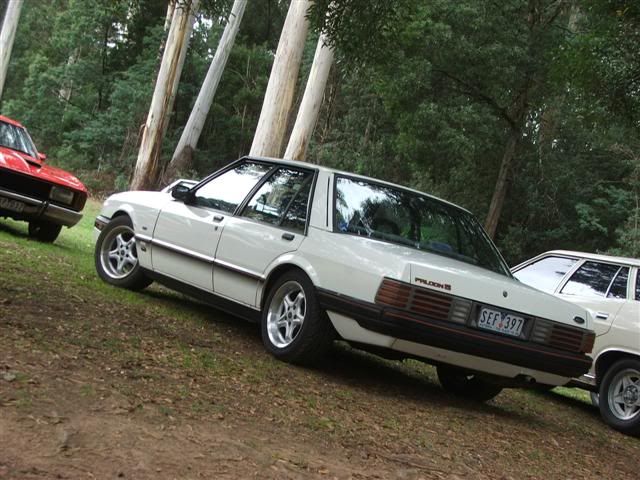 New home...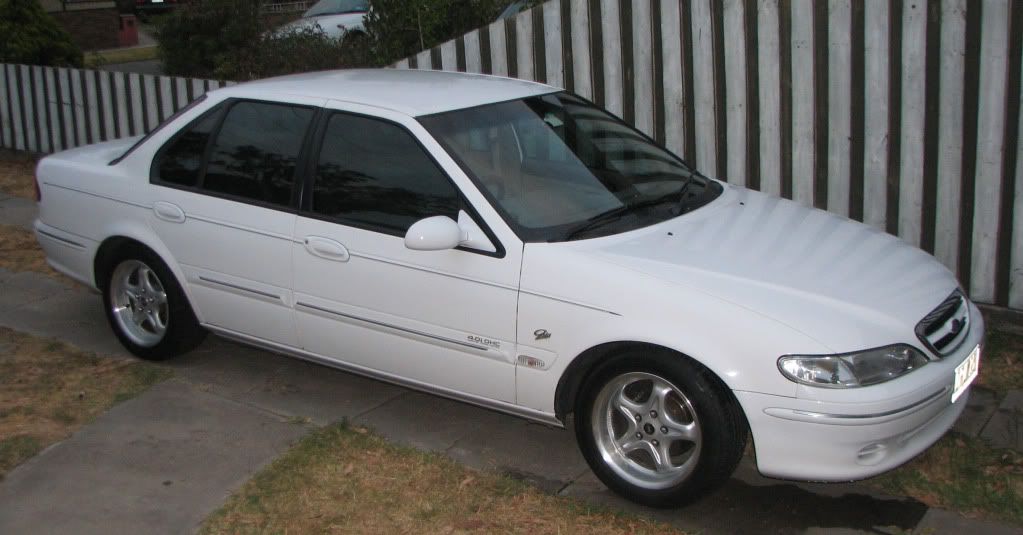 Springs still need to settle...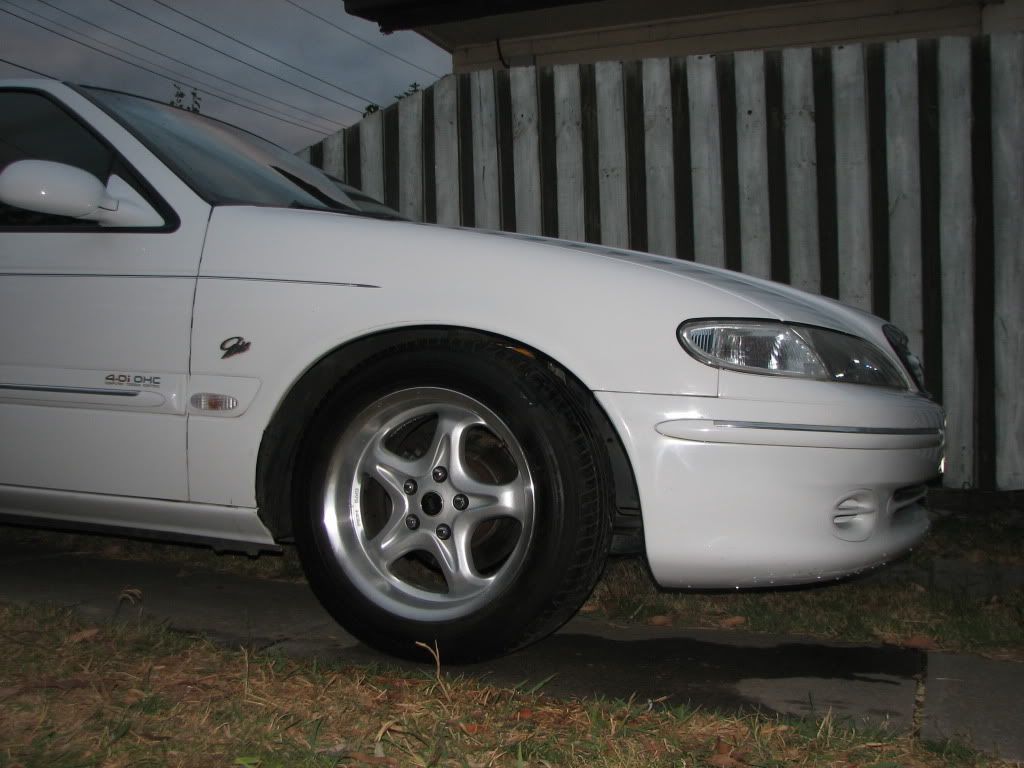 As I mentioned I also took this opportunity to convert to manual. Slushboxes just aren't my thing. And replaced my stereo, if you couldn't tell.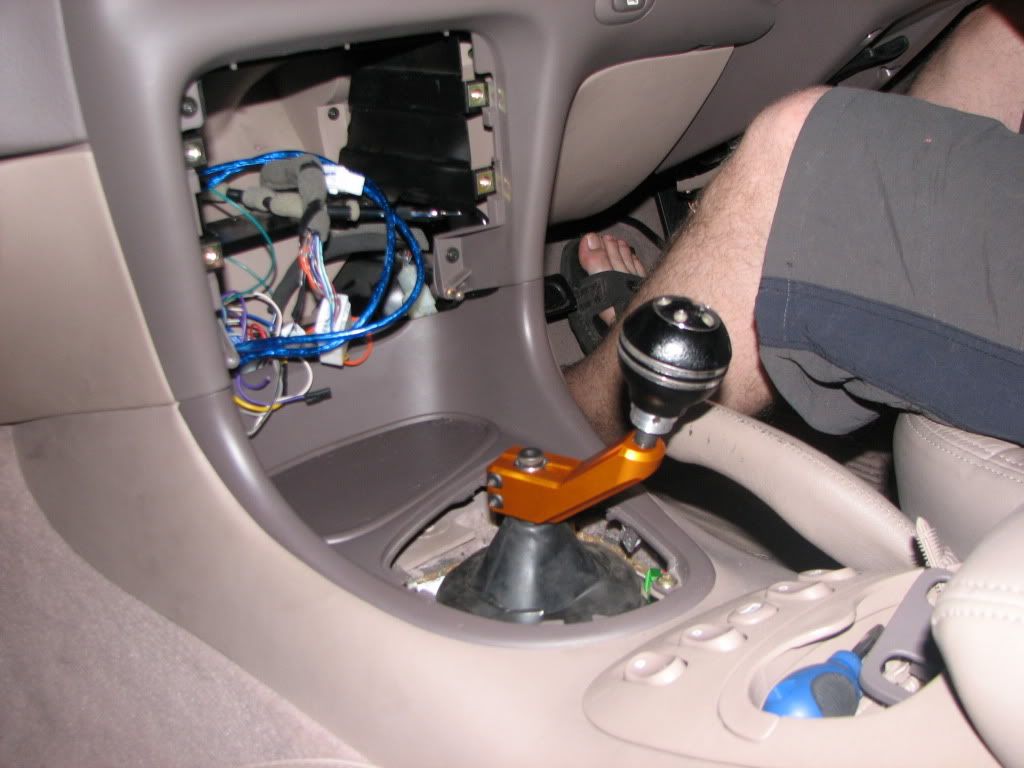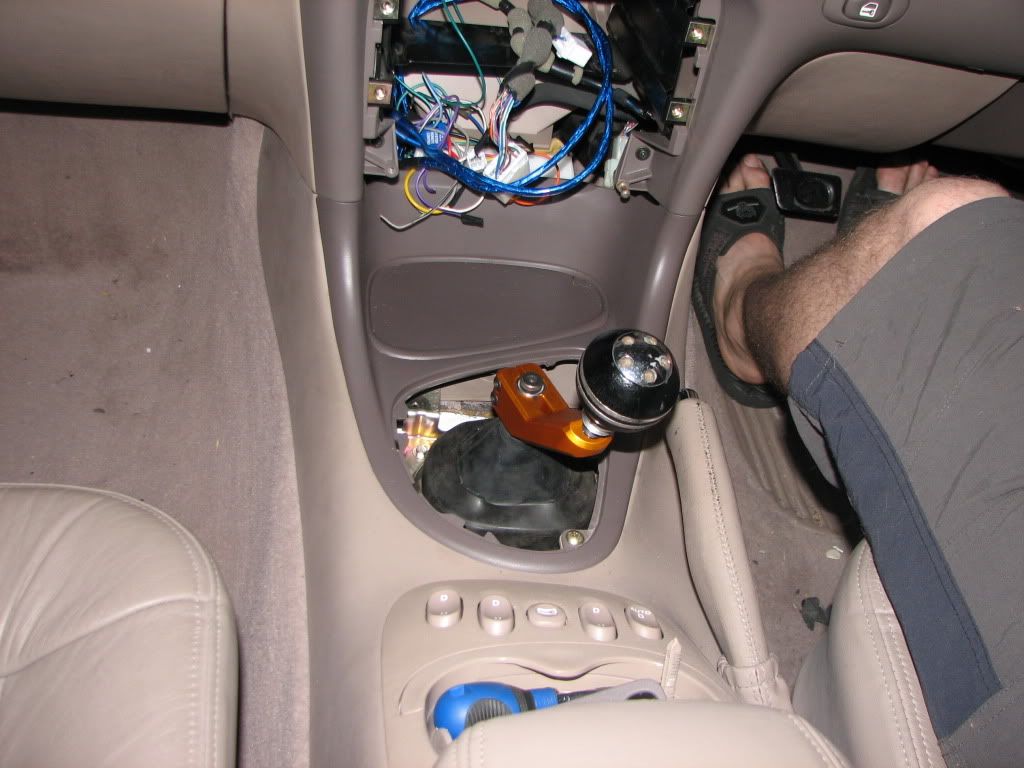 EL GT Gearboot, for the princely sum of $38 thanks to Ford spare parts, before they went NLA.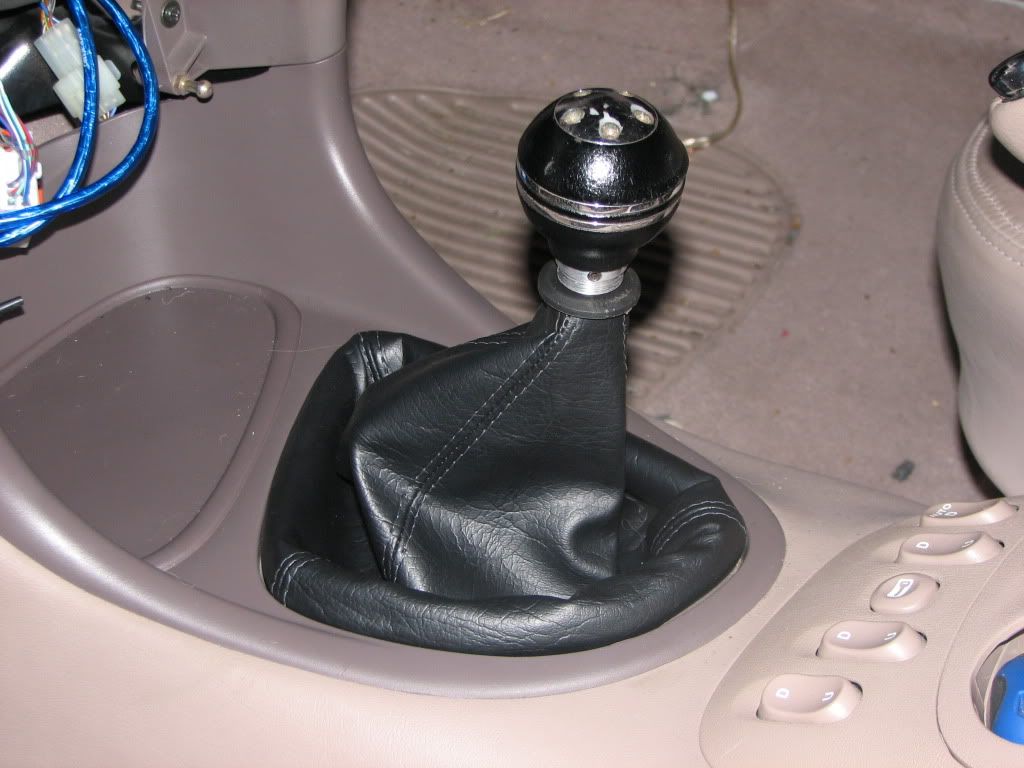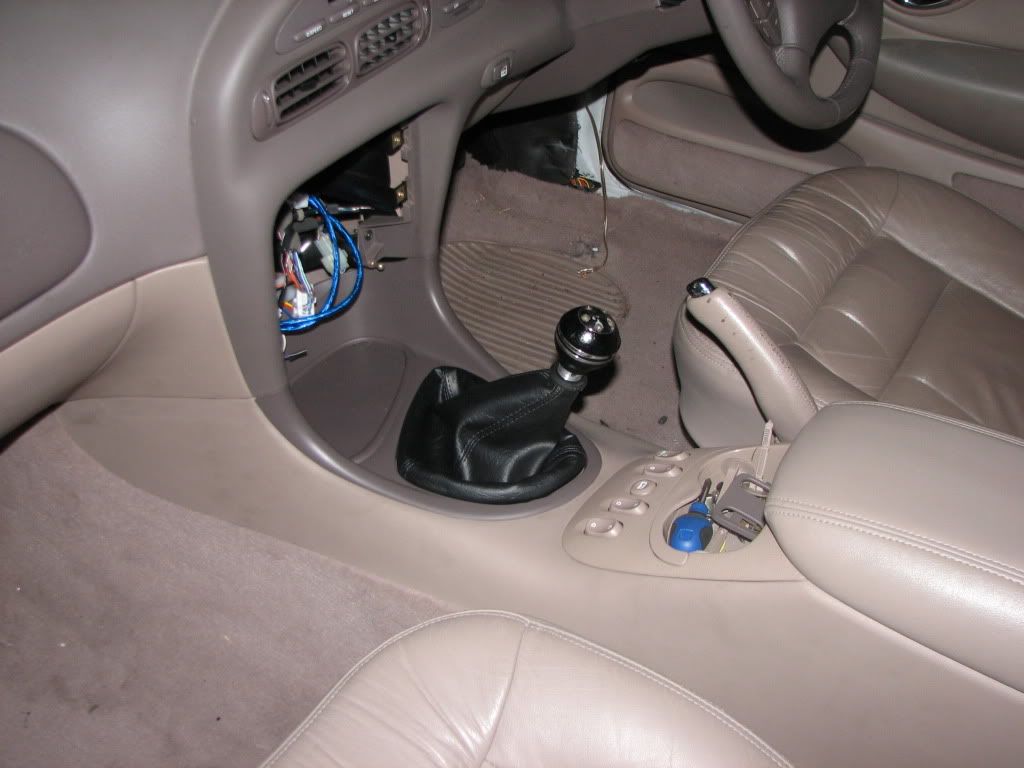 I used that Autobarn cheapo gear knob until I found one I liked.
I was browsing ebay an found this one from Autotek.. mmm... momo goodness. Almost perfect match for the wood-grain in the car.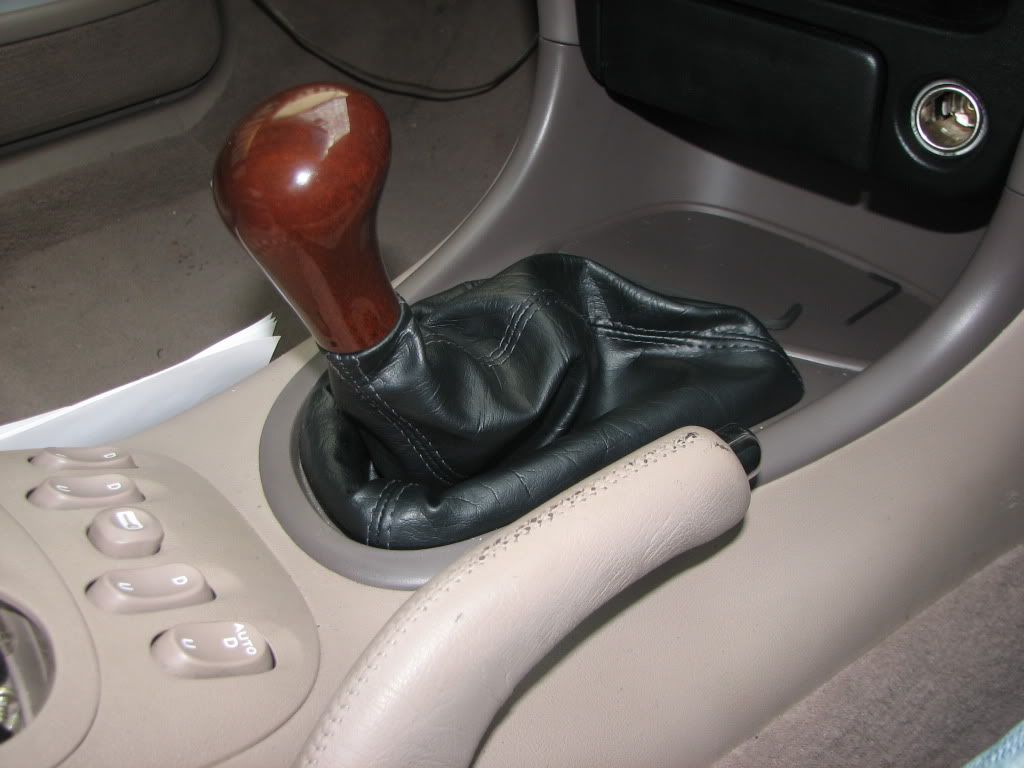 Short shift in action..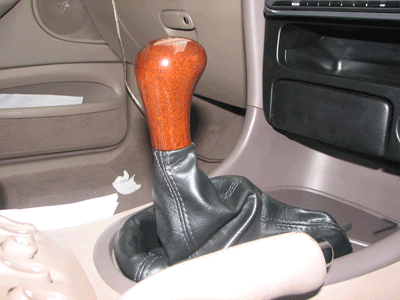 But something wasn't quite right, so I got something whipped up at work to finish it off... much better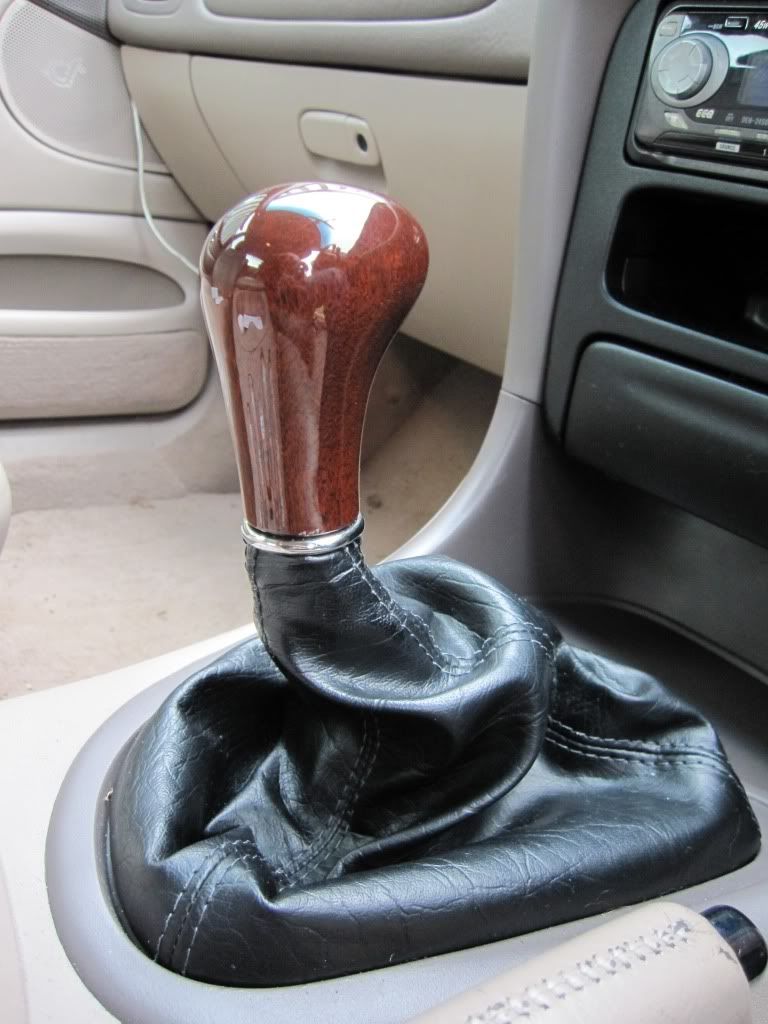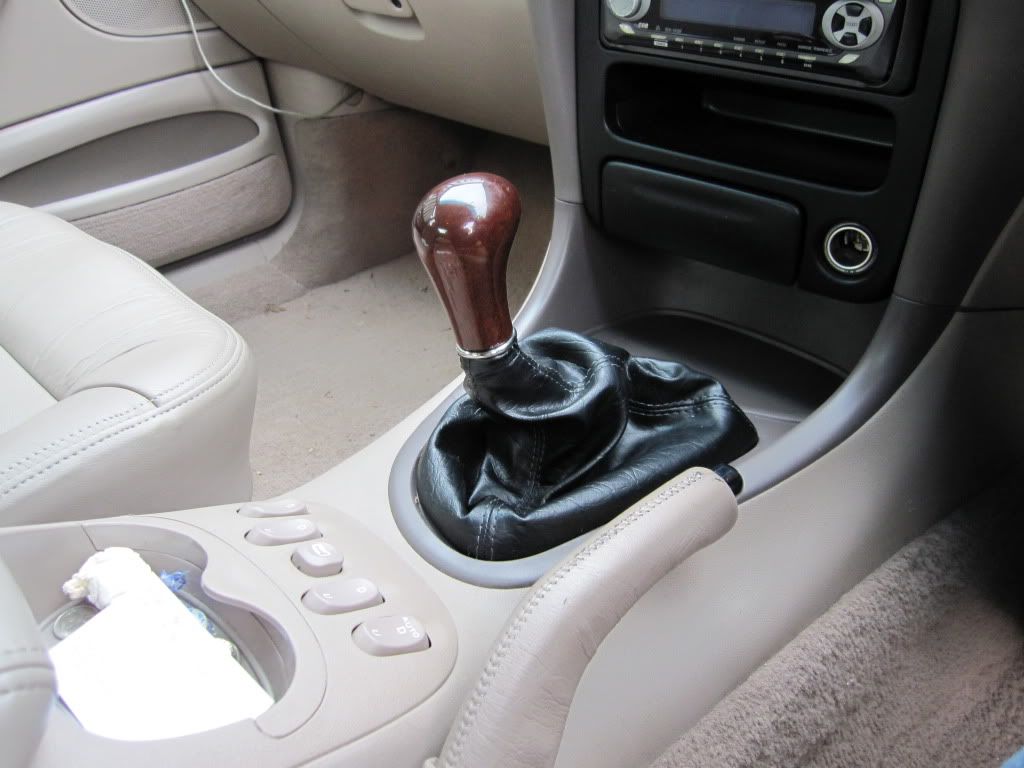 About a month later I returned to AFF properly, after being rather inactive due to uni studies, by joining in on my first cruise in a long long time. This was the Albert Park to Sorrento cruise organised by CADSKY. At which point the car looked like this... Thanks to whoever took this photo.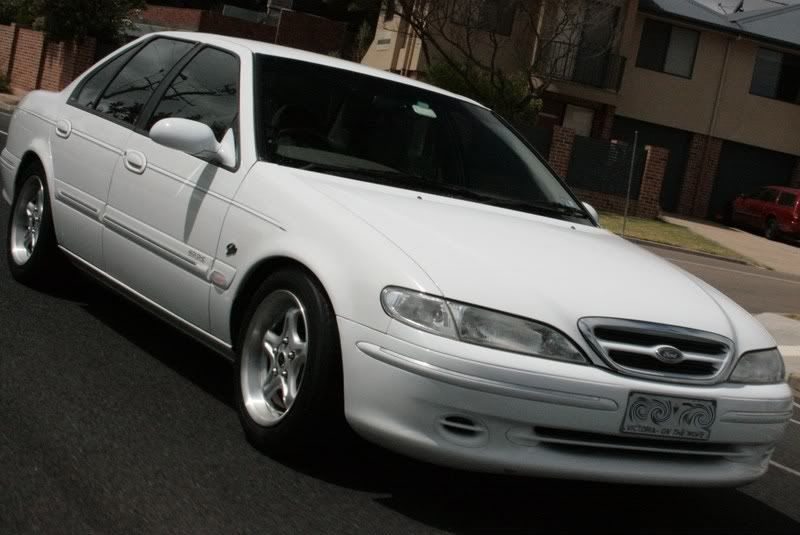 Just prior to this I learned of a group buy that Whoosha was organising for some airboxes made by Acron Plastics. The price was right, so I headed on over and picked one up. I love the induction noise these give, even on the 6. It's no 8, but it's still a pretty good sound. And it certainly felt like it was breathing a little better up top too....bonus.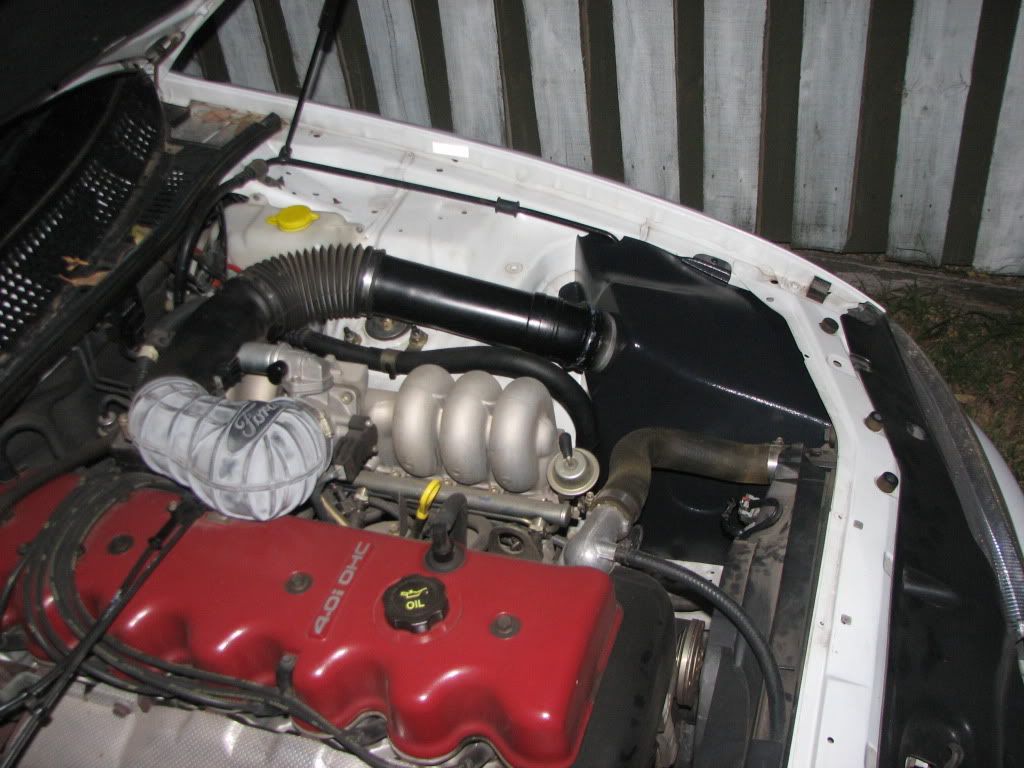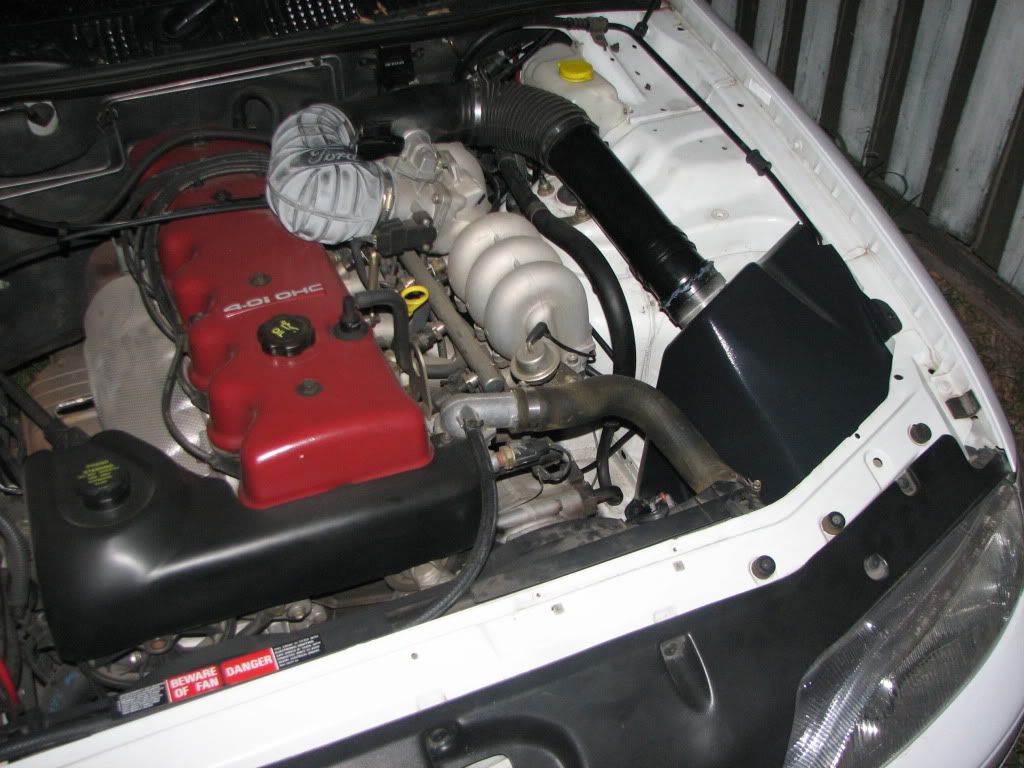 I cant remember exactly when I got this, but one day while scouring the for sale threads for ideas, it popped up, and I thought it was a nice match for my gear knob.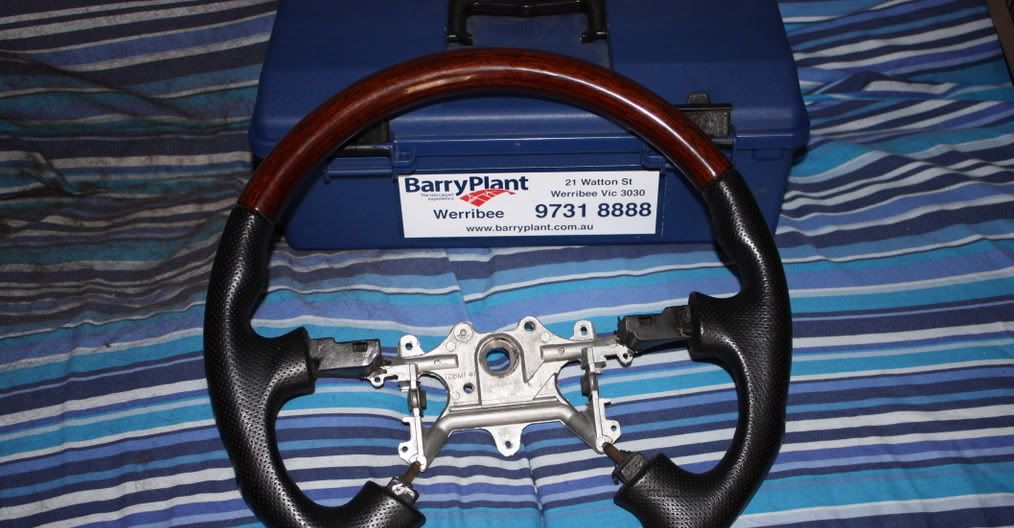 A nice match for my gear knob...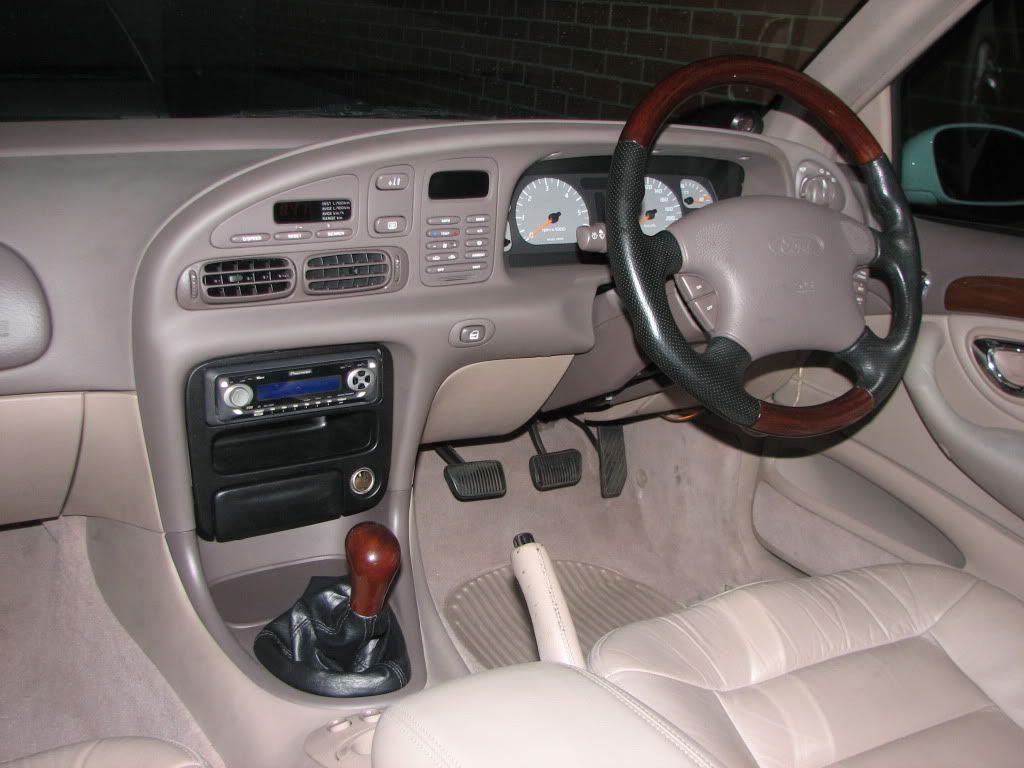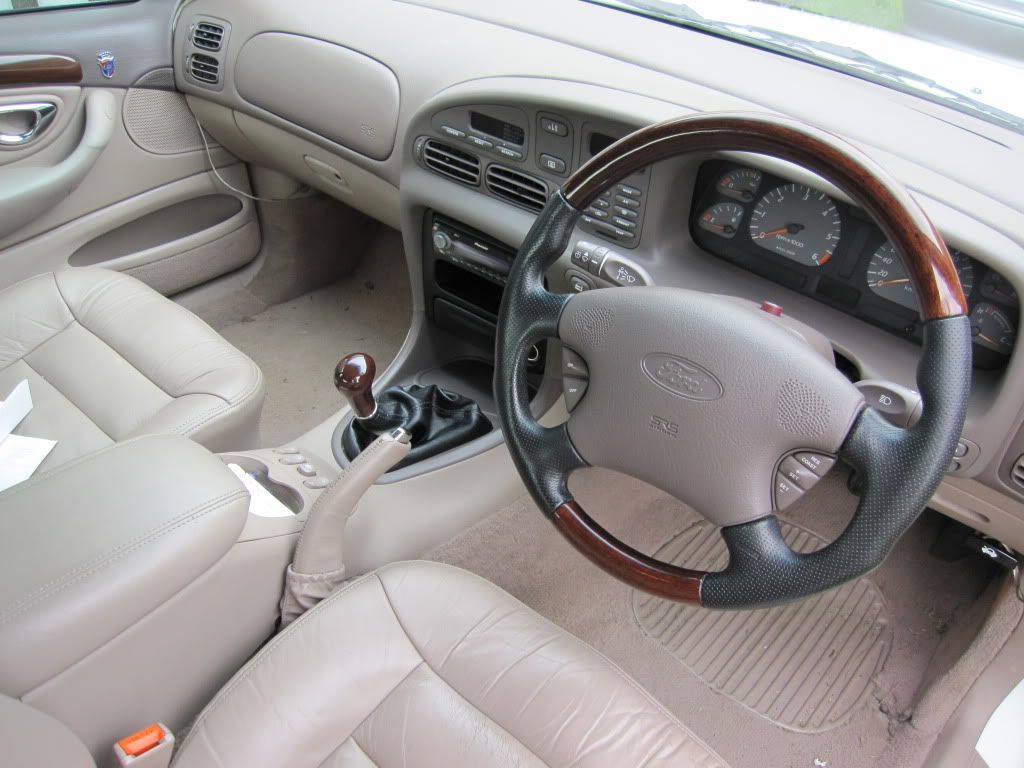 So you may have noticed in some of the pictures, I also changed the stereo. I took my old stereo from the XF and transplanted it into the EL. Premo sound is nice, but not as nice as what I was putting in there... It sold for a good price on ebay too.
The stuff you cant see is a set of VDO Dayton MPC1300 splits mounted in the factory door locations, and the tweeters on the A-pillars. Powered by a circa 1994 Kenwood KAC943 4ch amp. 2 channels for the splits and 2 channels bridged for the Jaycar reponse 10" sub woofer.
This went well until I came across a VDO Dayton HPS-12 sub woofer in factory designed box for a persuasive price.
I'm not going to win any SQ or SPL comps but the sound is immersive and just enjoyable to listen to.
The VDO splits came in two varieties at the time, MPC and HPC. MPC was the budget stuff and HPC the quality gear.
Many people didn't give a second look to this stuff because of the badge, but underneath the badge was a Danish built speaker from Peerless.
Way back when I got the MPC-1300's I couldnt afford the HPC's so I had to make do, but years on I started to look in the second hand market for a set of HPC-1700's, and eventually I found some in very good condition.
Unfortunately for me when they arrived at my door, I discovered the basket of the speaker wouldn't even fit in the door.
Given that I didn't want to go making custom fibreglass door trims, I left them in the box and began another search.
While looking at ideas for custom door trims, I stumbled across a car audio build thread of an EF XR6.
I followed this build thread. Everything was basically factory mounted, the set up was simple nothing even remotely over the top and the guy ended up winning the national SQ comp at mobileelectronics.com.au.
How could I go wrong with the same speakers?
So I looked and looked and discovered that they were near impossible to find, until one day I googled for them and up came an ebay ad that for some reason would not show when I searched on ebay, even with 'international' searching selected. After an email their way and some negotiation on shipping, I was the proud owner of a brand new in box set of Oz Audio Matrix elite component speakers, never opened since 2005. Not bad for AU$300 delivered. considering these were ~$1200 in their day and are still hold their own against multi-thousand dollar speaker sets.
I was never much of a believer of all the hype about fitting stupidly expensive speakers in order to have a nice sound, and I certainly didn't understand how a different set of speakers in the same locations could alter the sound any more than a trained professional might be able to pick up, but let me tell you... WOW!!!
Absolutely no change in anything other than the speaker itself and all of a sudden the sound was coming at me centralised above my steering wheel instead of from the doors. Ok I'm sold.
I was looking for things to do to personalise the car and thought some more chrome might be nice.
So I got some chrome vinyl courtesy of my wife's work and tried out a few things.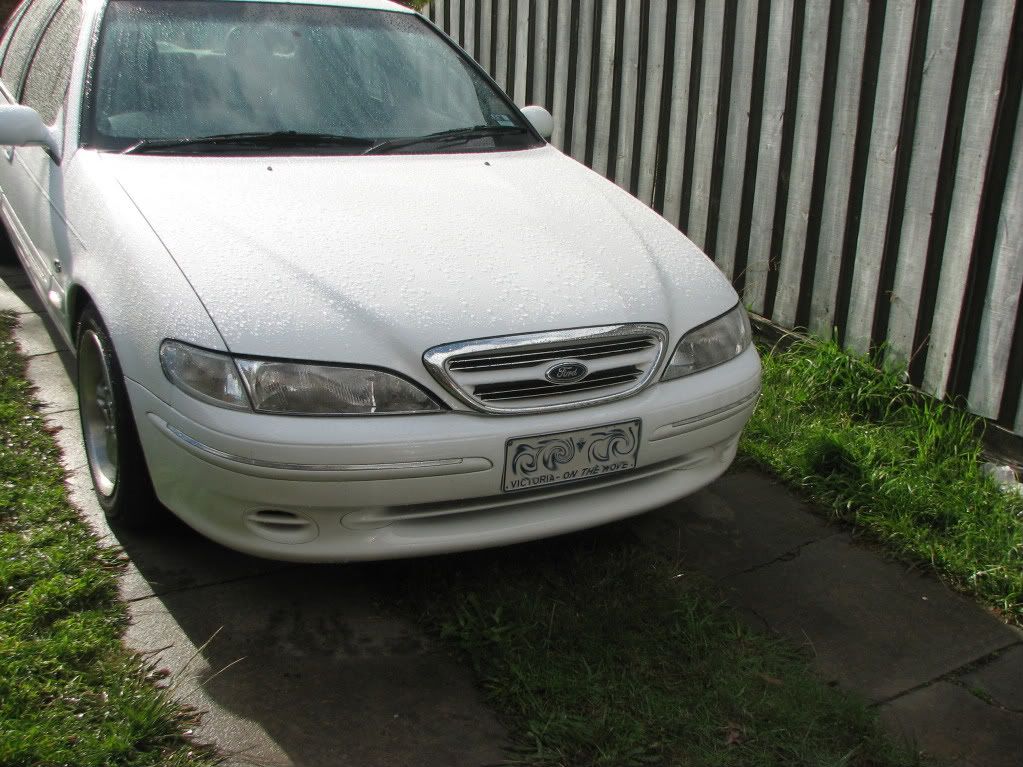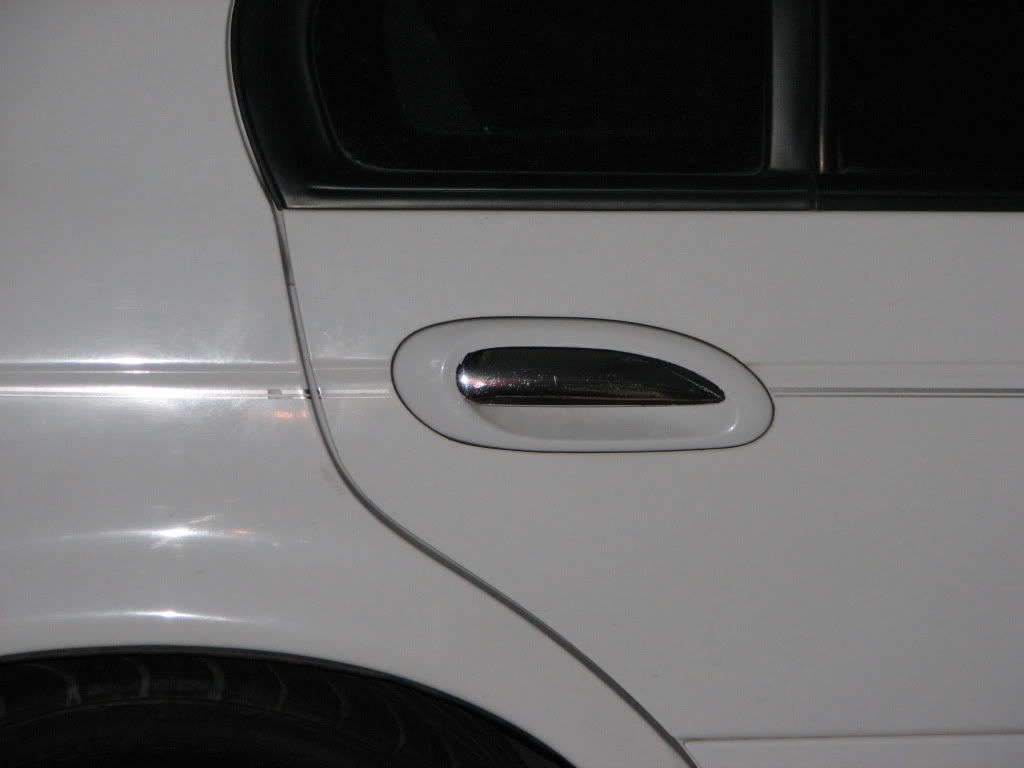 I decided I wasn't particularly a fan of either so they came off.
Christmas 2009 rolls around and again I wasn't really looking for anything in particular to buy, just browsing what's for sale and I come across an EL engine for sale with quite a few good bits already attached.
CMS stage 3 cam, Crow double valve springs, Crow vernier cam gear, 68mm Throttle body, Pacemaker 4499 extractors and a 2.5" cat redback exhaust. The advert showed a dyno chart showing 155.7rwkw. I got a nice tax return that year so what the hell.
I fitted it over Christmas '09 and it's still in there now. I got it tuned early 2010 by CVE performance and returned a figure of 150rwkw straight off the bat and then rolled off 161.7rwkw after some tuning on 91ron fuel.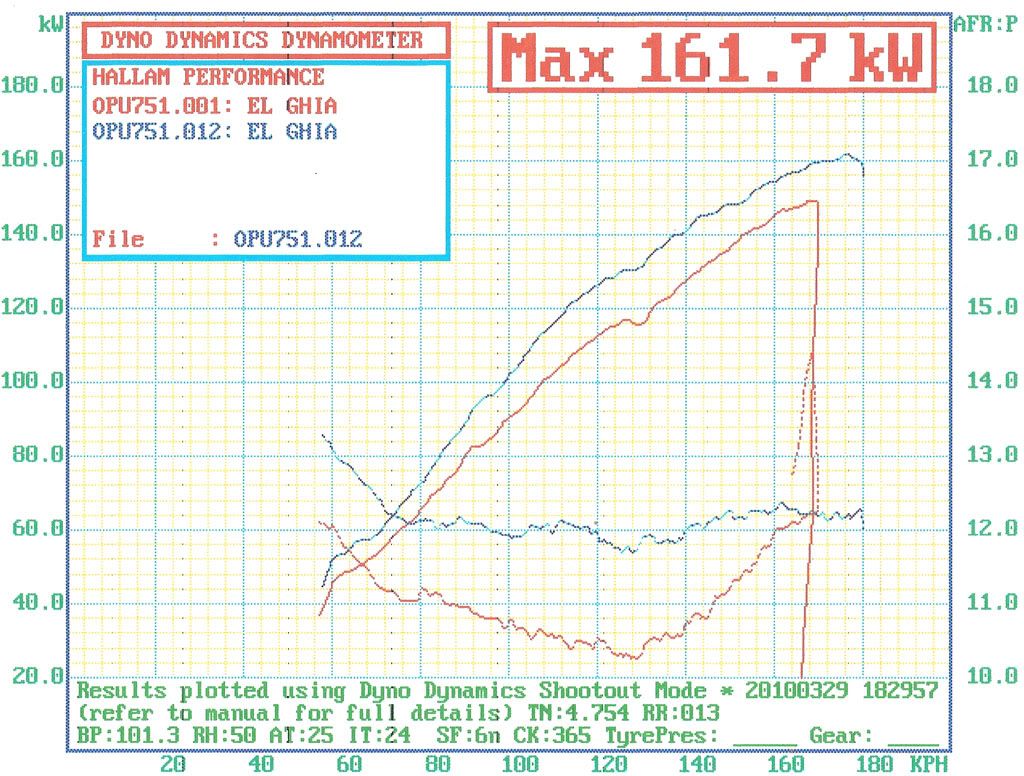 This was great, but stupid me wasn't prepared properly. The ISC was disconnected to help drive ability before being tuned, and I thought after the tune I would just be able to re-connector the ISC and it would be hunky dory. Yeah right. While re-connecting the ISC and trying to reset base idle, I discovered that I had set the TPS wrong.
Well not done it wrong, but measured voltage from the wrong spot. I used the battery as negative and took the output from the TPS. Turns out that when you back probe the TPS and use ground and signal from there, you get a very different figure... doh.
I got it all set properly this time and near that time, someone at work had bought a dial gauge and magnetic base for a certain job, so I thought I'd borrow it and check that the cam was properly dialed in. It wasn't. So that was changed too.
After these changes the custom tune was no longer very well suited and it pinged quite a lot, so it was unplugged simply because I hadn't found the spare time or money to get it tuned again.
And that is how it still sits today. I will be getting it tuned again shortly and when I do I will be getting a tune for 91 and 98, just to see the full potential.
In this time I had decided that I was scraping too many speed humps with the Kings superlow springs, and I'd seen someone mention Eibach Springs for their AU live axle. So I had a look at them and they were a good price for high quality.
AU springs are tapered and EA-EL springs are straight, so the AU springs weren't going to work on the Koni's I had for the EL. So I contacted Toperformance to see if I could get the lower seat to suit the AU spring, to which I was told that they stopped using the circlip to support the seat on the AU and went to a welded seat instead....but... he tells me, the seat is available to buy and with a circlip retainer I could use them quite easily on the EL shock body. So I placed the order.
I didn't get great shots of this conversion but here's what I took.
EL seat with circlip support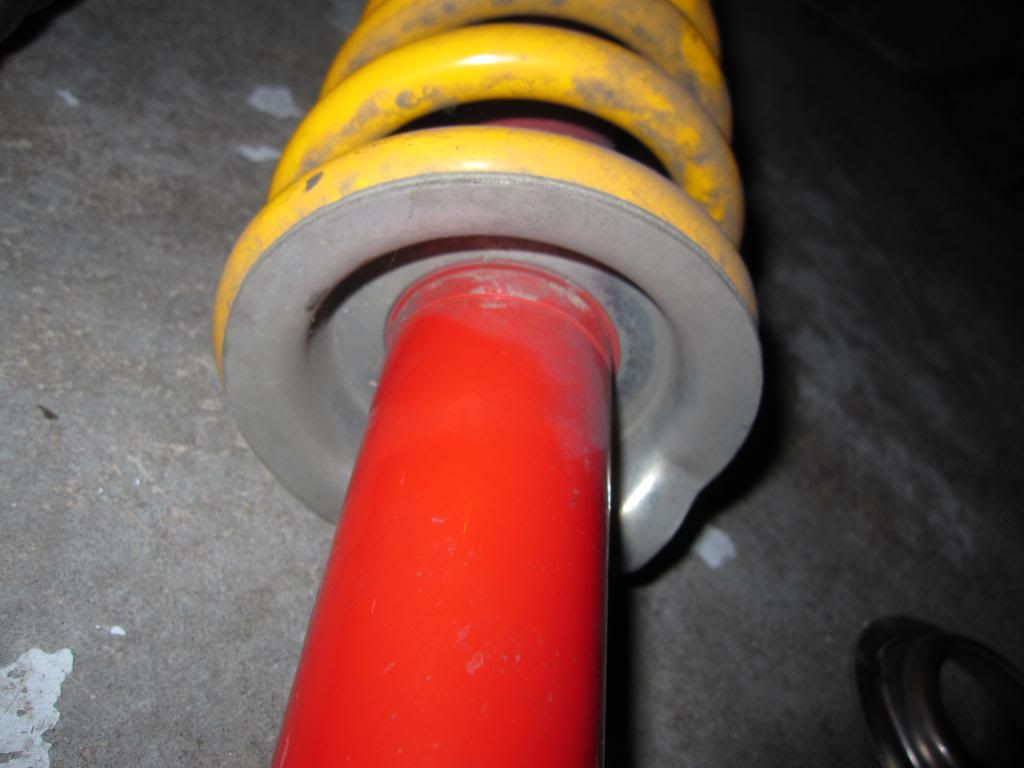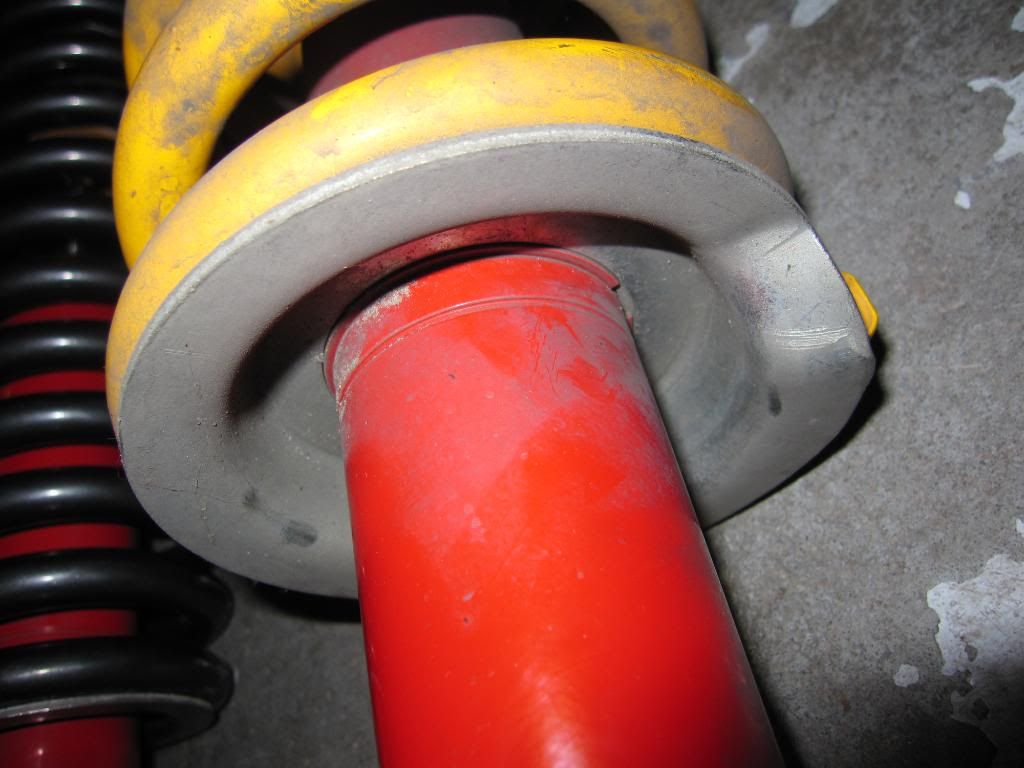 EL seat and AU seat with circlip retainer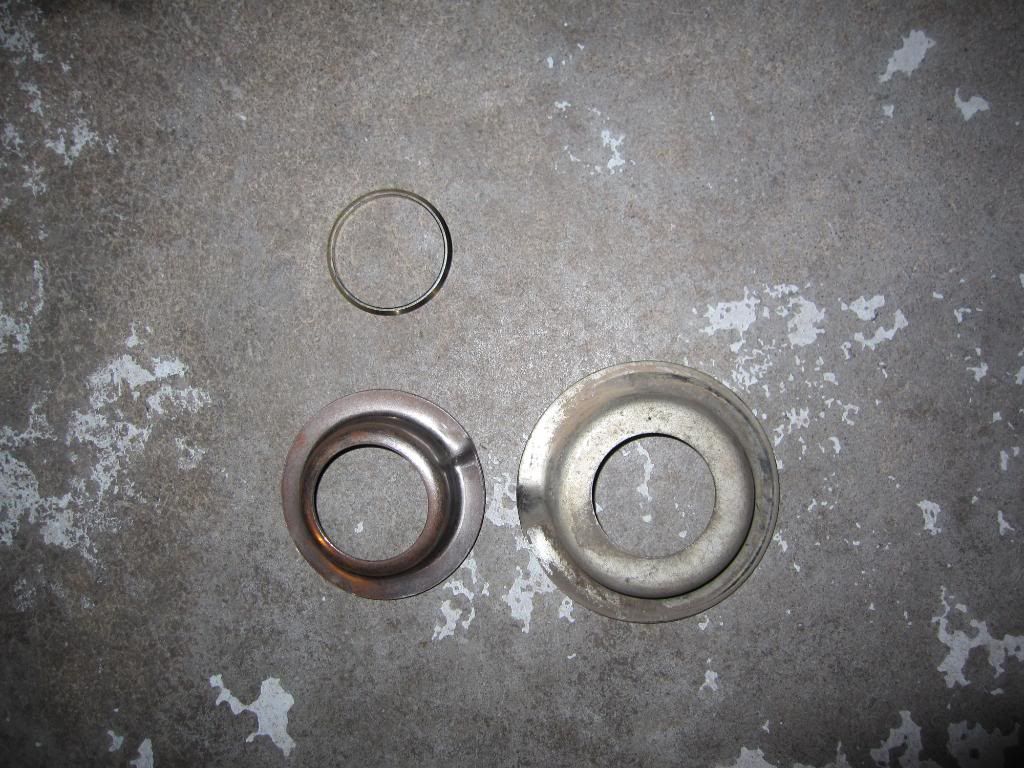 AU seat fitted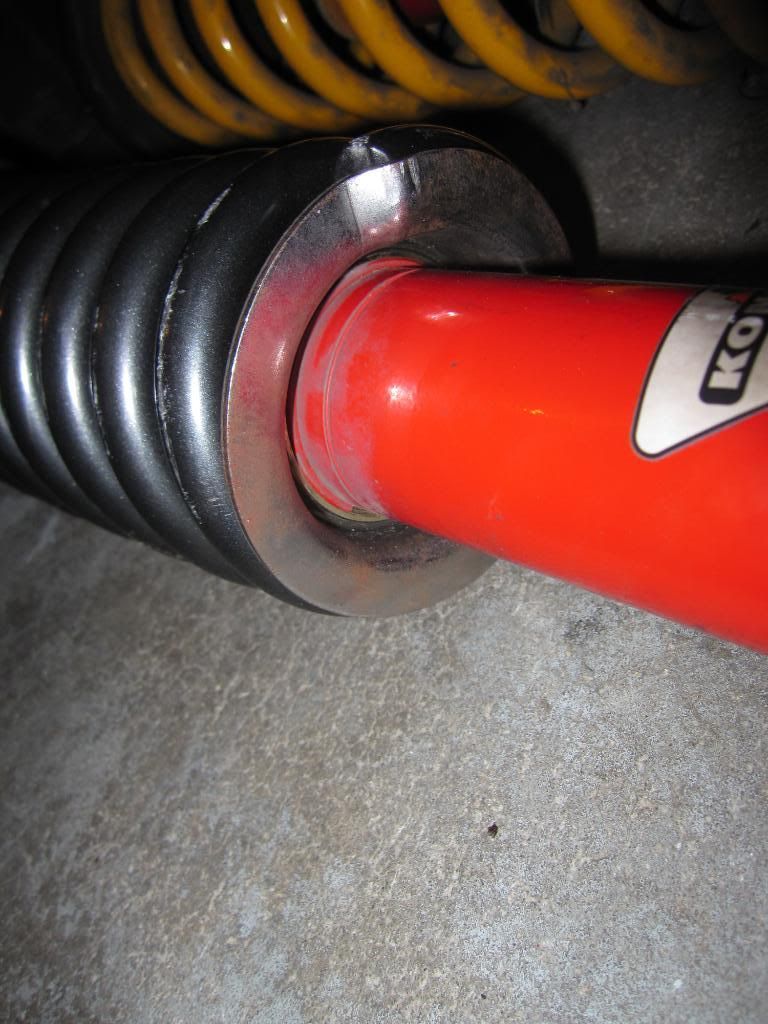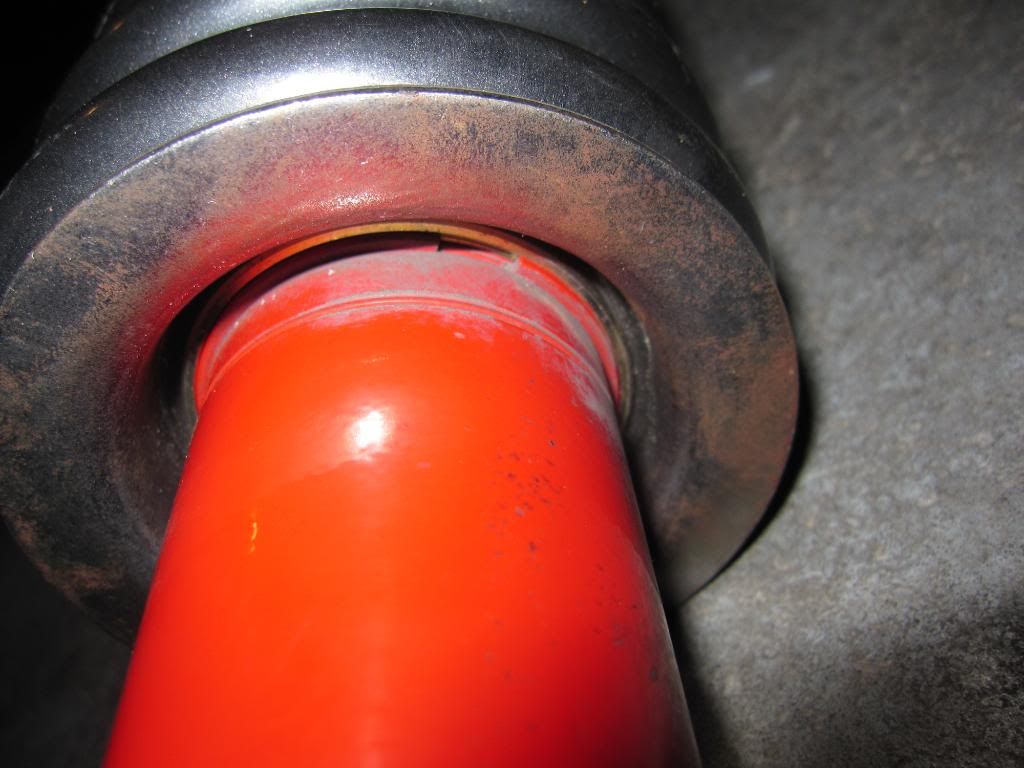 Comparison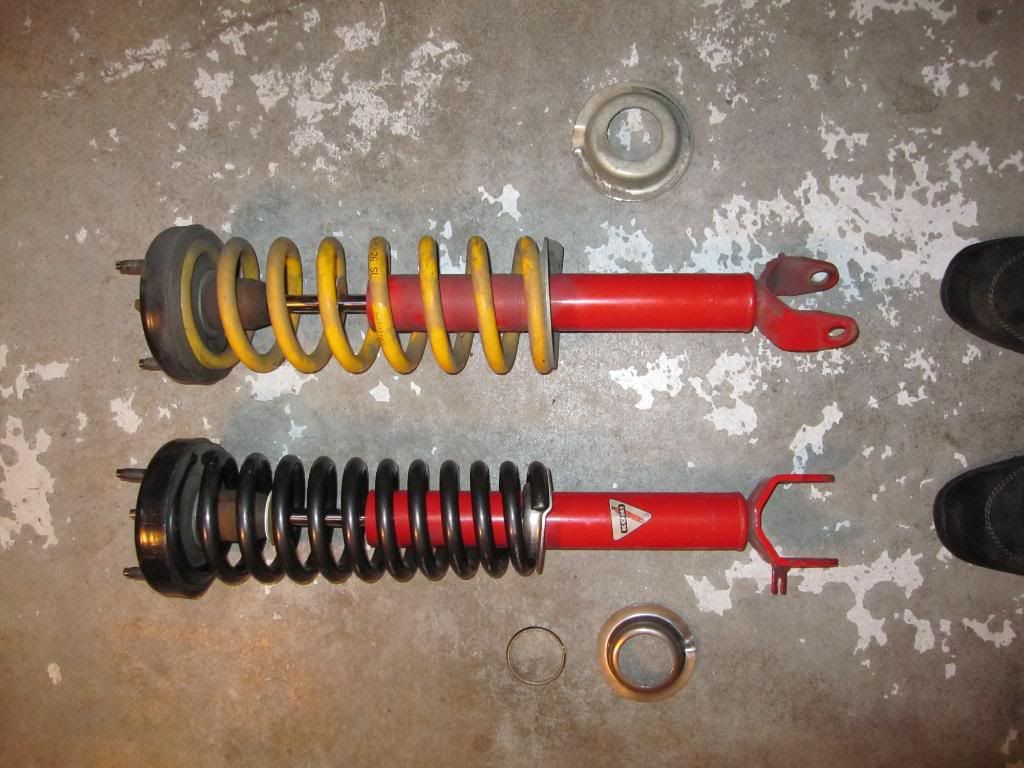 Now here comes the funny part...
I did not know that AU springs were actually 25mm longer than E series springs...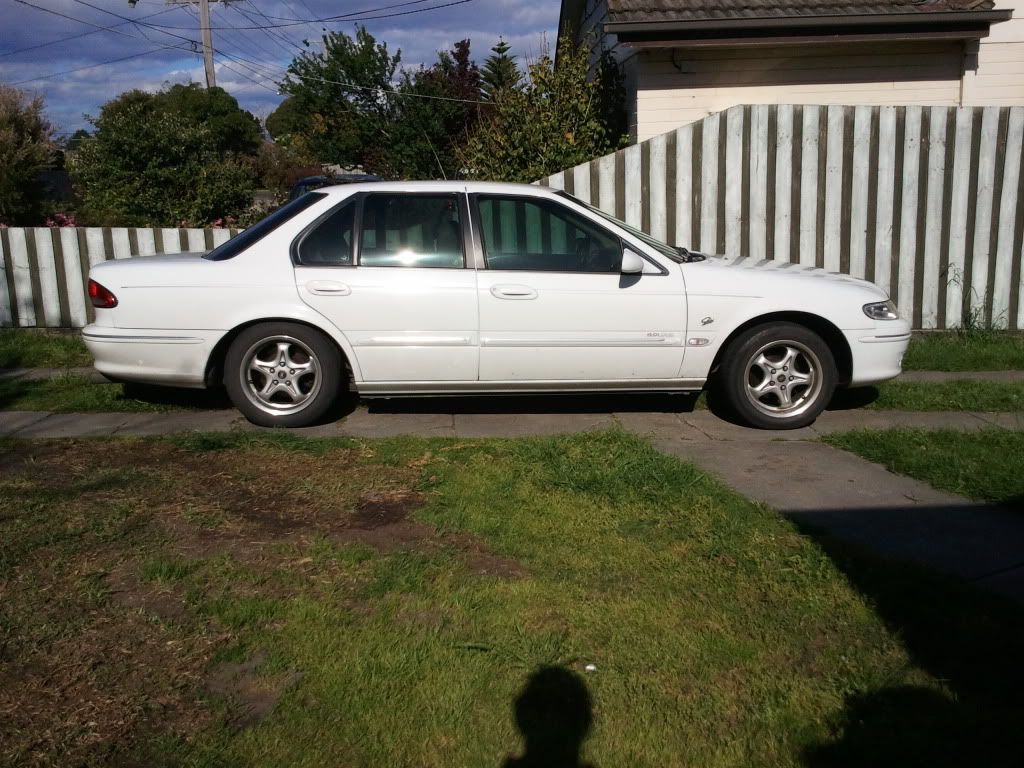 Fail...
So I contacted Toperformance again to check whether I would be able to machine some new circlip grooves on the shock body, and I was informed it was entirely possible, so off to the machinist, we use at work, and I had some new grooves on the shock bodies, a whole 25mm lower than before. Much better stance now.
Being the tinkerer that I am, I just cant leave anything alone. So I decided to change the background of the instrument cluster to something a little more modern and less 'ugly grey'.
This design was inspired by a WRX..