G'day,
After a new boot (spoiler preferred but not necessary) for my Falcon - for color see picture.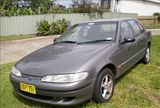 Also after a clock for the dash, the one I bought off Ebay was faulty.
Am in Nowra, somewhere close by would be great.
Please contact me with photos if poss and price$,
nowraboi@bigpond.com
Thankyou.
_________________
Drive and doing up an EF Ford 96 Falcon and love it.