dsyfer wrote:
Ahh, do you know the formula for how fast they diminish? or which program might list them and let you choose? I was thinking maybe a fluid dynamics flow simulator might be more accurate?
Not sure what ticky uses but I had this written down, I think I got it somewhere from the net so unfortunately it is in imperial measurements.
L = ((EVCD x 0.25 x V x 2) / (rpm x RV)) - 0.5D
EVCD is Effective Valve Closed Duration
RV is Reflective Value (ie what order you are tuning to; 1,2,3,4,5...I wouldn't go past 4 though)
V is Pressure wave speed (approx 1300ft/s at temperature)
D is Runner Diameter (in inches)
To calculate EVCD you take the duration of your cam away from a whole cycle rotation of the engine (720 degrees). On top of this you want the pressure waves to arrive before the valve closes and after it opens, so you need to subtract some duration from your cam. I have it written advising of subtracting 20 degrees from smaller cams or 30 degrees from bigger cams (ie, if you have a cam with 300 degrees duration your EVCD would be 720 - (300-30) = 450.
Here's an example I did in excel for a cam with 300 degrees duration and a runner diameter of 1.5in. Reflective value on vertical axis and rpm on horizontal, with runner length in inches in the middle.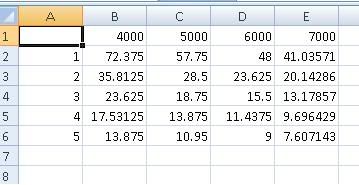 _________________
EVL098 wrote:
Cramping in the hand from having it on your Wang for an excessive period of time is a definate con.
Seriously do people google "f**k up modifications for Fords owned by Jews" and get linked straight to this site nowadays?
AU,factory fitted tickford kit/IRS, t5,Sports ryder/KYB: gone.
Last edited by skidder on Mon Feb 15, 2010 10:23 pm, edited 1 time in total.