Easter was the weekend to refit the blower, along with the new fuel system.
I decided I didn't like the black paint on the charger, so I cleaned it all off with wax & grease remover.
In the down time I had the throttle body apart to see if I could identify what was causing it to stick, just off idle, and it looks like I have fixed it. I am yet to try it without the extra return spring, that's something for this weekend, when I can be bothered.
There's still a few items to clear up before it sees dyno time.
I need to remove the T/B and adjust the butterflies so they seal properly. I'm currently running with the ISC hoses crimped or else it idles at 1100rpm. With the ISC disabled, it idles at about 750-800 when warm and just stays alive at about 500 or so when cold.
I also need to fabricate an idler pulley mount to get some decent belt wrap around the blower pulley.
And I also want to get an oil-air separator setup on the crank case breather.
Anyway here's some new pics.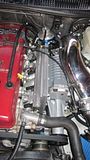 Last edited by MAD on Fri Apr 13, 2012 7:52 pm, edited 1 time in total.